And we're back! After the success of Finding the Female Headliners on Thursday evening, Amazing Radio are very excited to announce the next showcase at Birthdays in Dalston.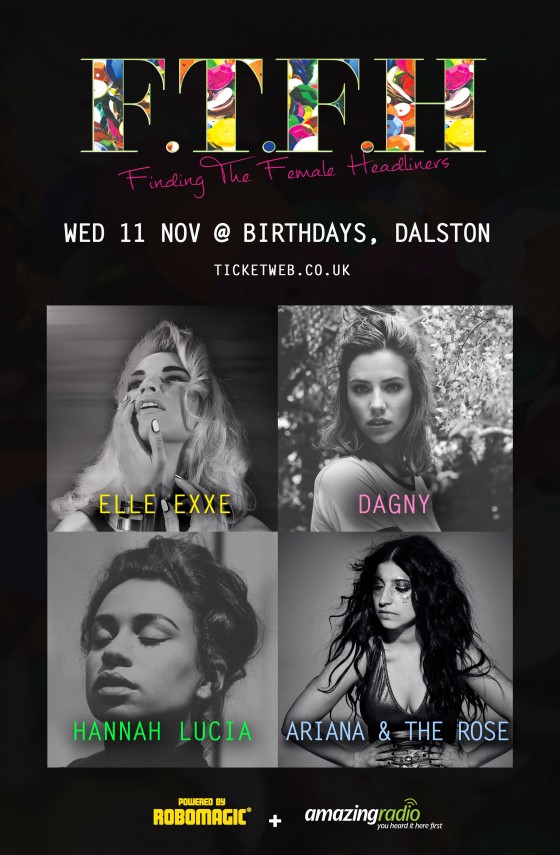 This is the fourth installment of F.T.F.H. in collaboration with The Other Woman and Robomagic Live. We are so excited to announce a line up of some fantastic female artists, including Elle Exxe and Norweigan singer Dagny. This event comes as a response to the lack of female headliners playing the top spots at this year's major UK festivals. Amazing Radio and The Other Woman want to help change the dynamic of the male dominated music scene, by showcasing female headliners of the future.
F.T.F.H. will again be working with The Eve Appeal to help spread awareness of gynaecological cancers. There are five cancers that only women get and they're too little known or talked about. 55 women a day die of a gynaecological cancer in the UK. On hearing these brutal figures, our ambition is to alert our young music loving fans to the issue, champion the women headliners of the future and raise much needed funds and awareness for The Eve Appeal. We're so excited to be supporting this ground-breaking charity in the work that they do.
Click attending on our Facebook event for more updates on the showcase.
For further information please contact promoter: Bonita Mckinney on 0203 371 2214 or via email Bonita@robomagiclive.com or purchase tickets by visiting www.robomagiclive.com.