It's been well and truly established that the future superstars of music festivals are currently discovered at smaller, more boutique affairs – in particular, metropolitan events such as Brighton's The Great Escape, Live at Leeds or Tramlines festival in Sheffield. Another name which sits shoulder to shoulder with that crop would be Liverpool's Sound City, a now four-day event taking place at Liverpool Waters on Clarence Dock. Today we got the first names announced for their 10th anniversary celebration in 2017…and it's big.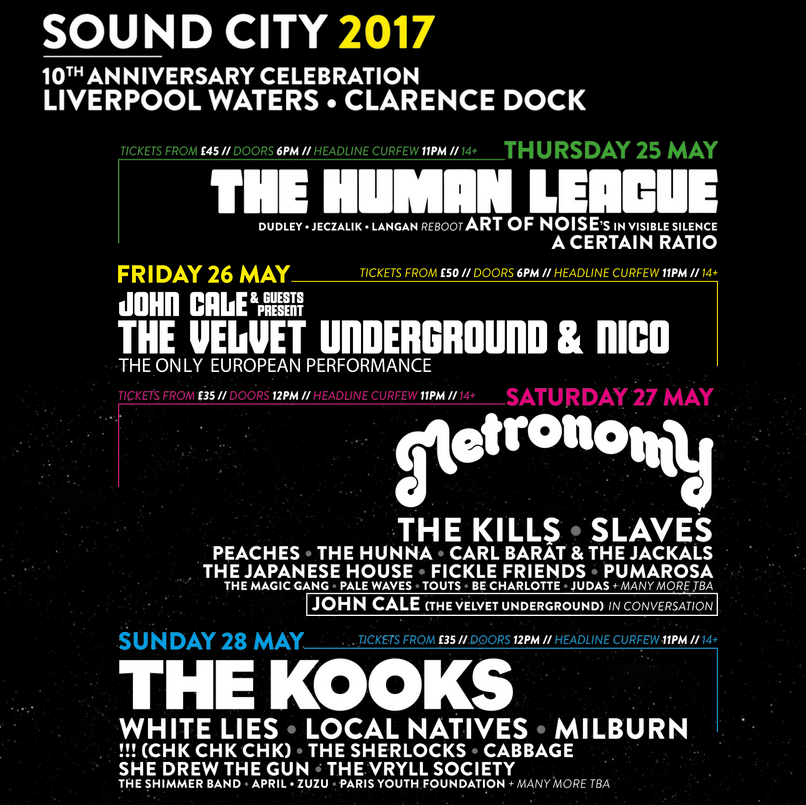 Sound City manages to strike a perfect balance between some of Amazing Radio's favourite acts, as well as massive legends of music in their own right. Headliners for the 2017 event include The Human League, Metronomy, The Kooks and The Velvet Underground & Nico, the latter of which will be the band's only European festival performance of 2017. Multi-instrumentalist John Cale will be leading a 50th anniversary show in honour of the band's seminal debut album, the second of only three celebratory shows this year. Some of our favourites joining them on the bill are former/current Tips list artists Slaves, The Japanese House, Pumarosa, as well as The Magic Gang, White Lies, The Kills, Local Natives, Cabbage and many more.
Every festival season, we're always looking for where the huge, "larger than life" moments will take place. A fair few of them just might be in Liverpool this summer. The four day event takes place 25th-28th May, get your tickets here.
Check out our Liverpool Sound City 2017 playlist below: