For May's [PIAS] NITES gig we're returning to Corsica Studios for a wonderful evening of new music with Ten Fé, DBFC and Confidence Man on the 17th.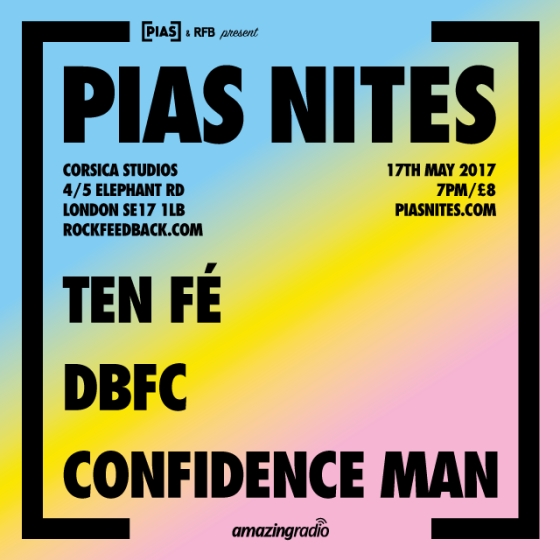 From their origins in Birmingham, busking on the Underground to finally recording in Berlin, it's been a long four-year journey for Ben Moorhouse and Lee Duncan aka Ten Fé and their acclaimed debut album Hit The Light. Fusing an energetic mix of Americana, Manchester baggy and soulful vocals with intricate, contemporary electronics, they embark on a monumental road-trip awash with modern love songs and an infectious groove Last seen headlining a sold-out show at London's Oslo and a run of rapturously received European shows in March, this appearance will no doubt enhance their reputation further.
DBFC, Manchester-born David Shaw and French artist Dombrance came together via a Parisian underworld that flitted between techno and psychedelia, club culture and rock mythology that recalls Primal Scream's halcyon era or New Order's classic run of 12" singles in the eighties. Their refusal to be shackled by boundaries is witnessed on their forthcoming debut album Jenks and sees DBFC flourish on the intersection of electronic and organic. Jenks is released on June 2nd via Different Recordings, the electronic imprint of [PIAS].
Confidence Man, a four-piece from Australia and recent signings to Heavenly Recordings recently unveiled their highly anticipated debut single Bubblegum. A joyful slice of imperfect pop, with flirty flutes, baggy grooves and sassy vocals, the track is accompanied by the band's first European shows. Renowned for ecstatic live appearances at home they have already turned heads with dates supporting Chairlift and various festivals.
Tickets go on sale now priced at £8.00 and available to purchase here