It's that time of year again when the music industry packs it's bags and heads to Austin for Barbecue, Bourbon and oh yeah, bands. It must be SXSW. So if you're heading over or you want to know who the best artists are playing this year's festival, take a look at our preview.

When we announced our Tips For 2015 in December we knew all the artists would go onto to have a great year, so it's no surprise that several of them are playing at SXSW. In fact three of them are playing one show. Soak, Gengahr and Little Simz all take to the stage at Latitude 30 for BBC Introducing and PRS For Music on Wednesday evening joined by the brilliant Spring King, Jack Garratt & BLOSSOMS, who are playing for us in London later this month. 
At the same venue the brilliant Shura joins East India Youth and Kate Tempest at The Music Wales showcase. So, undoubtedly, Latitude 30 is going to be a place to find as soon as you pitch up in Austin.
After the growing controversy regarding festival line-ups in the UK, it's heartening to see that SXSW has a plethora of female artists on the bill. The superb Canadian indie of Alvvays will be gracing the stage at Mohawk alongside the equally excellent Girlpool on Wednesday.
Or you can catch the sublime Torres, previewing material from her sophomore LP at Central Presbyterian Church in the early hours of Saturday morning. Or, if you'd prefer a slightly more in your face option, don't miss Makthaverskan at Holy Mountain on Saturday night. Finally, Courtney Barnett is playing a couple of shows in support of her debut album that comes out next week, make sure you don't miss it.
Any seasoned SXSW attendee will tell you to try not to do too much venue hopping as it may very well be the death of you. Instead try and find particular showcases where you want to see two or three bands, therefore minimizing the running around or taxi fares. If you wanted to take this notion to an extreme by only staying at one venue throughout the week, may we recommend the Hype Hotel.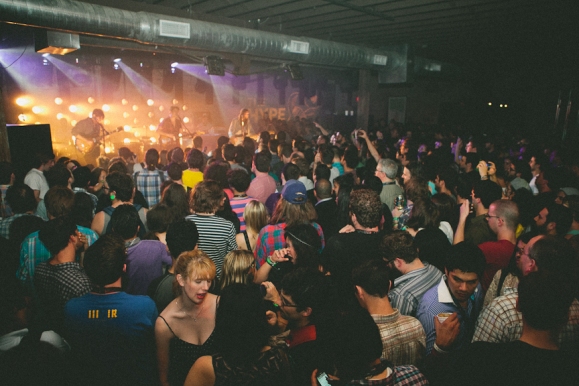 Hosted by Hype Machine, the line-up's across the week are curated by some of our favourite blogs and are really great. Wednesday sees All Things Go and Blah Blah Blah Science team up to bring us the brilliant Wolf Alice, alongside Best Coast, Ryn Weaver and Laura Welsh. Whilst on Thursday Gorilla vs Bear presents Chastity Belt, Hinds and Yumi Zouma all of whom have recently graced our playlist.
The vibes continue into the weekend as Friday daytime is brought to us by Crack In The Road and Disco Naivete as they bring us a mind-bendingly brilliant showcase including Raury, Gorgon City, and George Maple from 12pm. But seriously don't leave, as then the equally excellent Cruel Rhythm showcase featuring Years & Years, Daniel Wilson and Seinabo Sey begins. I guess what we're saying is if the Hype Hotel was a festival in its own right, it would still be worth the airfare.
If you're not going don't worry, Amazing will have people on the ground at SXSW so keep your ears peeled throughout the week as do our best to bring you the lowdown from the streets of Austin. But if you are going, whether it's the uncompromising punk of Bad Breeding or the funk pop of JUCE, we're certain you'll see something great if you follow our tips. No need to thanks us, just bring us back some pulled pork.