Once again Amazing Radio has had the delight and the privilege to attend Norway's Slottsfjell Festival! Tucked away in amongst the gorgeous fjords, caves, castles and absurdly good looking Norwegian teens, the festival takes place in the lovely town of Tønsberg, which Dani Charlton and Emma Snook called home for the best part of a week. Bands, beers, sensational weather and near-perfect setting? Sounds pretty good to us.
Wednesday
The festival kicked off with a handful of local talents and headliner Wiz Khalifa's cloudy rap, but it was emerging minimal R&B star Gundelach who caught our attention headlining the festival's smallest stage, and though this particular venue may have been comparatively humble, he was clearly more than ready to move up the ranks. Team Amazing had hoped to catch up with him for a chat beforehand, but he was battling an ailing voice so it will have to wait for another occasion – on this one it was more than worth him taking the time to rest it as much as possible as he nailed every soaring high and growling low with such seeming ease the crowd were absolutely none the wiser.
Thursday
Sweden's Elias was the first real highlight of Thursday, with his soulful gospel influenced R&B pop provoking a great deal of swaying amongst the young crowd. His distinctive voice and tight live ensemble make for a memorable show, so fingers crossed he'll make it back over here sooner rather than later. Speaking to Dani Charlton we know he's got a full length LP just about ready for release, so we may well be in luck!
Grimes took to the main stage with an explosive set showcasing her distinctive brand of aggressive, unrelenting, otherworldy pop. With her high kicks, screams, Russian rapping and wild instrument-hopping, Claire Boucher made it clear that she is as formidable and ferocious a performer as they come, and is surely destined for huge festival headline slots. Flanked by her two eye-poppingly excellent, ice-cool dancers and her partner-in-crime HANA (who performed a solo set earlier on in the day), she brought the party fjord-side as she powered through an impeccable selection of bangers including REALiTi, Venus Fly, Scream, Flesh Without Blood, Oblivion, World Princess Pt. II and her self-professed "favourite" Kill V Maim.
Brits-abroad Wolf Alice did the right thing and got in the fjord ahead of their Thursday night set. Suitably refreshed, and in typical Wolf Al style, they delivered another faultless set which veered from the high-octane to the wistful and mesmerising. Weaving through album cuts from Silk to Giant Peach and back through EP selections including Blush, Storms and Moaning Lisa Smile, they once again showed off their mightily impressive repertoire for a band working towards their second album.
Headlining Kongscenen, Slottsfjell's main stage, on the Thursday night was the transcendent Susanne Sundfør. Though still somewhat of a beloved cult figure on the alt-pop scene here in the UK, Susanne is rightfully a massive star at home in her native Norway, and it was such a privilege to see her perform so beautifully to such an appreciative crowd. Tearing through her back catalogue (including Amazing Radio favourites like White Foxes) the highlights had to be the confrontational pop hits on her most recent album Ten Love Songs – closing with the impossibly catchy Delirious (DC was singing it in the shower for the rest of the festival, FYI) it was a triumphant performance from arguably Norway's finest songwriter at the moment.
Friday
Despite having literally only one song floating around the internet, ARY opened proceedings on the main stage on Friday in fine style, and it was clear from the enthusiastic crowd that plenty of people have been to her shows to learn her other songs – certainly an artist to keep an eye on! Following ARY we enjoyed strolling around the festival taking in as many sights and sounds as we could. From a beautiful and surreal set from Bendik in an actual cave (no, really) and arguably the maddest crowd of the weekend for bongo-weilding MOR-tykes Kakkmaddafakka (yes it does mean what you think it means), it was the low-slung experimental R&B of Kildaphew which captured our attention up on the tree-lined Tårnlunden stage – just as the sun started to descend towards the fjord, things were getting lit.
With a glass of red wine and a cigarette in hand, Matty Healy from The 1975 made himself at home on stage in Tønsberg. A saxophone solo, Matty's unbuttoning of his shirt and a high percentage of cuts from an album entitled I Like It When You Sleep For You Are So Beautiful Yet So Unaware Of It might sound like a dangerous mix, however the set was an undeniably entertaining feast for the eyes and ears. The soaring Somebody Else stood out as a highlight.
Saturday
The festival's final day arrived altogether too soon, but there was still plenty to see, hear and love across every genre you can think of. Lissie opened proceedings on the main stage (though we were lucky enough to catch her in the intimate cave stage a little later on) but things didn't really get going properly until Honningbarna arrived a little later on. Nestling somewhere between hardcore, metal and punk, Honningbarna are not a band to you listen to, they are not a band you watch, they are a band you experience. With a platform set up between the crowd barriers and the stage to allow easy access between the two, it was nearly impossible for the uninitiated to tell who was in the band and who wasn't, as there was so much passing back and forth between both. What was inescapable, however, was the ferocity of adoration from their fans and the raw brutal energy the band put into their performances.
Even if you have no love for heavy music, it is hard not to be completely won over by the addictive energy and joy from the crowd and the band, and there wasn't a single person in the audience not yelling along with it by the end. Oh yeah – did we mention the singer plays the cello? He does. It shouldn't work, but it really, really does – it all just goes along with the strange voodoo which is Honningbarna – once you've tasted it once, you're almost certain to go back for more, and before you know it you'll be crowd surfing towards the stage like everyone else.
Following Honningbarna was a completely different but equally passionate and intense performance from Swedish/Lithuanian rapper Silvana Imam. Much like Grimes earlier on in the festival, the front few rows of her crowd were all devoted teenage girls, ribs crushed against the barriers and howling along with every word, which was actually almost as moving as Silvana's own set. With a DJ tucked away to the side, Silvana mostly commanded the stage all on her own, and though she did have help from the odd guest, no-one else was necessary – her own charisma mesmerised and engaged more than well enough.
You don't need to speak a lick of Swedish to be swept up in her powerful performance and impressive stage presence – sometimes a meaning can be keenly felt beyond the barriers of language. She was halfway down the bill on the second stage, but it felt like watching someone warm up for a future headline slot, and though for the local crowd the final night's headliners Karpe Diem were very much the big draw, for us Silvana Imam was the day's highlight.
Though we did catch a bit of the local heroes' headline set, we thought we'd sample a rarer delicacy to end the festival, which was the bonkers J-pop inspired effervescent joy of Kero Kero Bonito. Watching Kero Kero Bonito is a bit like eating an entire packet of Refreshers in about 40 seconds flat. It's super sugary, your entire head feels like it's fizzing to the point where you're not entire sure what's going on anymore, but you know it's a lot of fun and that you're definitely having a great time, even if you may need to visit a dentist in the morning. Aggressive pop production meets sugar-sweet vocal melodies singing about trampolines and graduations, it's really weird and really, really fun – even the most sceptical audience member was having a shimmy by the end of their set, and as we descended the hill for the final time, we caught a group of excited fans spotting them behind the stage, so it's safe to say we weren't the only ones entirely won over by KKB's oddball pop delights.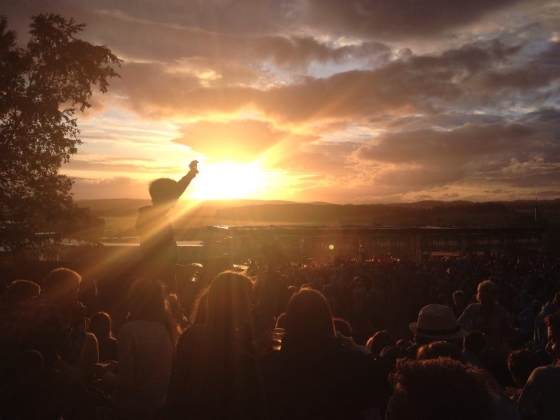 Where Slottsfjell excels is a well scheduled and varied line-up – if there's something you don't fancy on one stage, there's likely to be the genre's polar opposite happening somewhere else so there's always something awesome to see, plus plenty of space to just chill out on the hill and enjoy the Nordic summer, if that's more your vibe. Roll on 2017!