If you've seen part one of our Great Escape jaunt, you'll be well aware that we squeezed some of our favourite artists in to a small Brighton house to bring you some very intimate performances. Below are the rest of them and some stories from the Amazing Radio team from some of the remaining gigs we went to.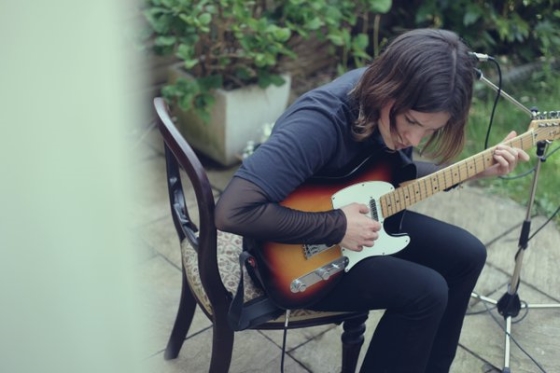 EERA kicked things off in fine fashion under the coastal sunshine. She gave us a flawless version of Undressed before she played to a full house for our gig in Patterns.
We also sat Ben from Blaenavon down in the same chair, their track I Will Be The World is currently sitting on our core playlist yet they chose to give us a really nice acoustic track in You Pretty Little thing.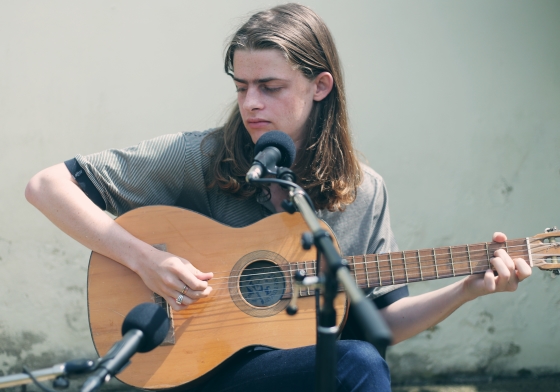 No sooner than Day Wave had landed at Gatwick Airport they were hurtling down the motorway to make our session before heading off for two gigs around the city. Two guitars, one voice and 12 minutes from opening the door they were on their way. We got Stuck in one take, and it's awesome!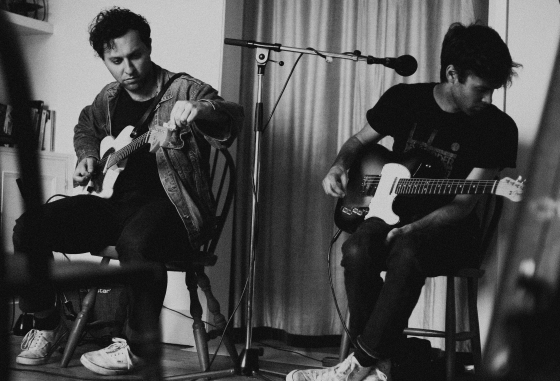 Amazing Record Co. were also in attendance representing with Boy Jumps Ship. Si and Johnny with acoustic guitars in hand belted out Lost & Found from their debuit album Wake Up.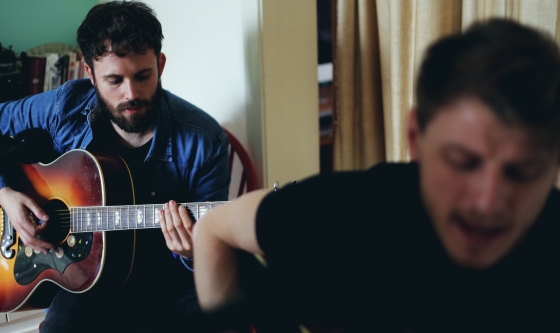 Saturday afternoon was all about the Tipping Point showcase, and especially Boy Jumps Ship. In the big room at Komedia, the lads attracted a huge crowd and really delivered, with a high energy performance. A busy touring schedule over the last year has given them plenty of opportunity to hone their live show, which is now slick and confident. Highlights include JR's epic hair flicking, Johnny Doug's parking banter, and the raw power of my favourite track, Burn, concluding their awesome set. It was a proud moment to see them winning new fans and impressing long term supporters. (Jenny Nendick)
Iceland's Axel Flóvent masterfully worked his way through Your Ghost, so much so that we totally forgot to take his picture. Sorry Axel! Rest assured though the video is on it's way and is stunning, just like Axel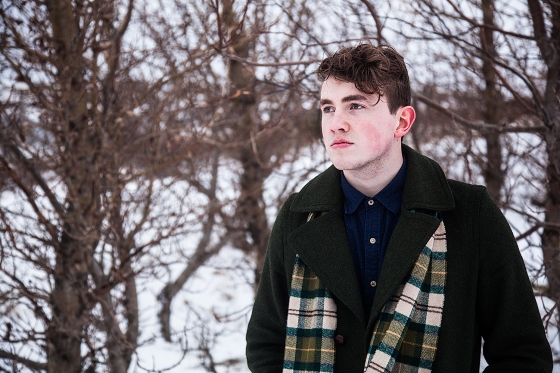 Hailing from Brighton, Black Honey made it clear that they were very much at home with a seemingly effortless, electrifying performance at Wagner Hall. Izzy B Phillips held the crowd in the palm of her hands as she hurled herself into a set that suggested they are a band not fazed in the slightest by big stages (thankfully so, as their trajectory points towards bigger and bigger shows). In true rock-star fashion, Izzy ended the set by recklessly chucking her guitar to the floor; a well-deserved mic-drop for a band who have got it down. (Emma Snook)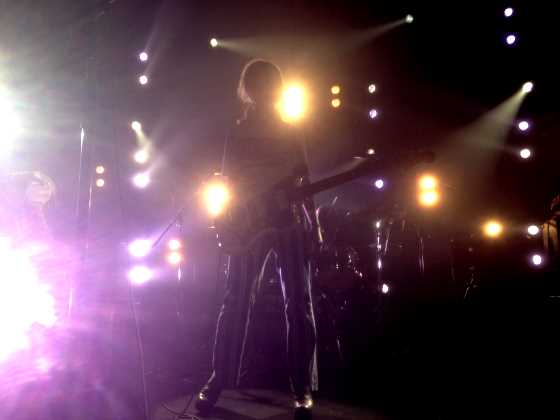 A few members of team Amazing Radio camped up early in the calming sanctuary of St. George's church and we're so glad we did as Masayoshi Fujita's solo vibraphone performance was just what we needed. Masayoshi took to the stage to explain how each composition he would perform would be accompanied by a short story which would act as companion to his music which he described as being like pictures in books.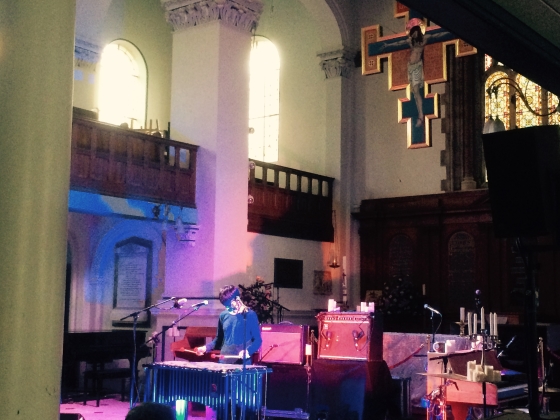 His vibraphone resonated gracefully around the church as his audience sat in silence, carefully considering every turn and beat of his mallets. His music was heartbreaking, at times euphoric and uplifting. With eyes closed it was easy to forget that such beauty was being transmitted by one man with a vibraphone. This was a truly cinematic experience in an outstanding venue and a real honour to be in attendance. (Matt Baty)
L.A. trio Katie Gavin, Josette Maskin and Naomi McPherson have been making waves this year as MUNA and so it was somewhat appropriate that they were located on the seafront in Brighton's Coalition on their first U.K. trip. Delivering their slick sounds with a ferocious live energy, their words were echoed back with gusto by a crowd clearly swept off their feet by their debut release, The Loudspeaker EP. New track I Know A Place instantly rocketed high off the scale in the banger-charts, hinting at very good times on the horizon. Fearful of bringing the euphoric mood down with a sad song, Katie issued an apology before launching into If You Love Me Now. No apologies were necessary from a band who have undeniably got something very special going on. Here's hoping they're back on U.K. shores very soon. (Emma Snook)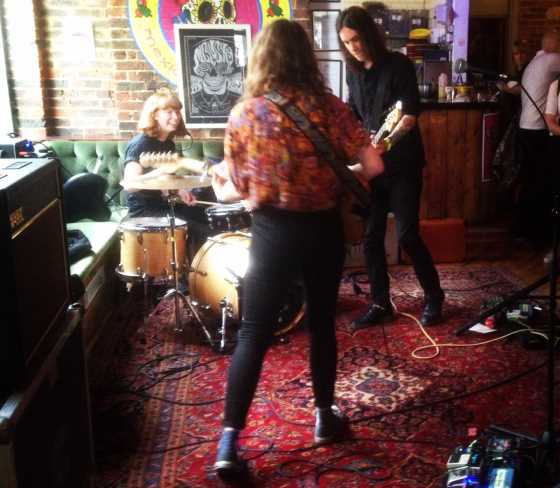 Soph Nathan must have top-notch time-keeping skills as she miraculously managed to cram in multiple Our Girl shows between The Big Moon's in-demand Great Escape schedule. As well as potentially winning the award for Brighton's busiest, she can also lay claim to being one of Amazing Radio's highlights of the festival. Losing bassist Josh to a stag-do for the weekend, Dan from The Wytches stepped in to complete the trio. Playing downstairs in Bleach upon an elaborate rug – and as part of an impressive line-up for the DICE x Cannibal Hymns x House Arrest all-dayer – the band delivered their warm, fuzzy sounds with a cool confidence and a healthy dose of shredding guitar. (Emma Snook)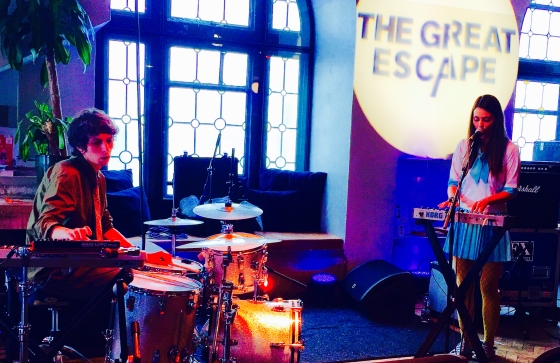 Latvian avant-pop duo Howling Owl captivated the audience with an eclectic array of sounds in their early afternoon showcase at Patterns. Effortlessly transitioning from moments of peaceful calm to chaotic jazz infused intensity, these two transported me to every side of the sonic spectrum. If I'd had a hangover at the beginning then it was well and truly forgotten by the end.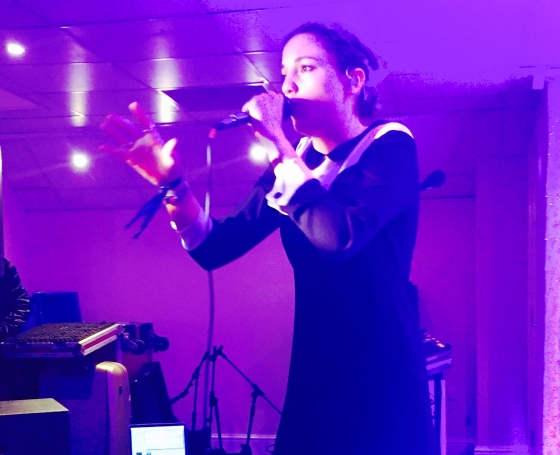 I arrived a little late to The Queens Hotel for JAIN and the room was packed out. On entry I could hear some incredible loopy wonders being blasted around the room, my shoulders began to twitch and before I had a chance to blink I was dancing my way to the front. This is a top tip to get to the front of any show by the way, dance yourself through the crowd and if anyone gets mad then tell them they should be dancing anyway and stop being so boring and grumpy.
JAIN had the crowd eating out of the palm of her hand, dancing, jumping and singing along. She had an amazingly friendly and fun presence on stage and you cant help but warm to her charm.  Captivating rhythmical loveliness. (Kitty Hedley)
It was a real pleasure to see Norway's Dagny perform in the flesh at Komedia. She's an exceptionally engaging and energetic artist whose infectious smile spanned the entirety of her set. You really got a sense that she absolutely loves doing what she does too. Backed up by a fantastic full live band, the energy and sheer joy oosing from the stage was palpable. Everyone in attendance was clearly in awe and hanging on her every word. A half an hour set of previously unreleased material joyfully made its way to the crowd of jubilant recipients before being topped off by the hit single Backbeat which perfectly crowned a stunning performance. I think its safe to say, Dagny is on her way to the top. (Johnny Hedley)
Tuff Love were on top form, new DM's and all. Every band who played the Dr Martens stage go some brand new kicks. How cool!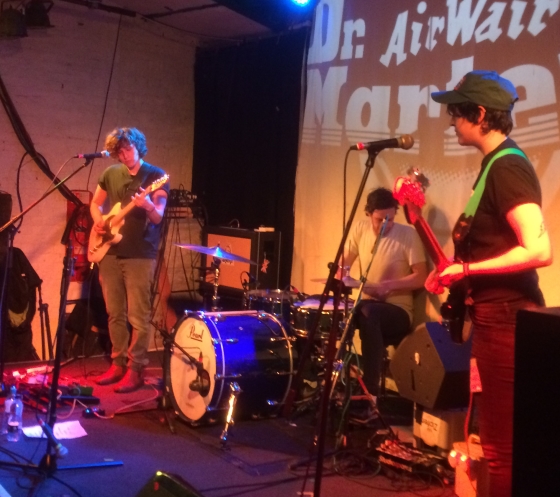 I had a bit of a solo mission trying to find Coalition to catch Khruangbin – I'd already walked miles and had a full day of watching bands non-stop, my energy reserves were low and it was the wrong side of midnight. But there's no way I was going to miss Khruangbin, I've been desperate to see them ever since their album dropped in November last year. After finally making it to the venue, I wasn't disappointed. Even watching them set up their gear was cooler than anything I'd see all day.
Their drummer was the most mellow guy I've ever seen, his drumming style was a joy to watch, he held the chilled funk grooves together with an innate ease that you just cant teach. The bass player and guitarist, both clad in some funky as hell 70's styled outfits, both captained the journey with such repose and sparkle that brought a smile to every single person in the room. Shouts of "we love you" intermittently came from the crowd which were promptly echoed by the guitarist back at them. They majestically played a balanced selection of tracks from their new album The Universe Smiles Upon You – Mr. White and White Gloves being particular highlights for me. I can't get enough of those bass lines.
I love Khruangbin. Mellow funk jams at their very best. I'll definitely be keeping an eye on their touring schedule because I. NEED. TO. SEE. THEM. AGAIN. This year was my first Great Escape experience, it can be quite full on for a newbie like myself, 450+ bands over 30+ venues, so much to choose from! I'd executed my plan for the Thursday perfectly, but the following day I strolled around not knowing exactly where to go or what to see for the first few hours. So I thought, let's pop into the Queens Hotel and see what happens. What happened? My mind got blown.
I walked into the pitch black room and was met with the insatiable throbbing drones of K-X-P. Exactly what I needed. By this point the Helsinki based trio were already locked into a groove that pulsated its way through my body and firmly planted itself in my brain immediately. The scratchy, scribble like strobe visuals gave you a slight glimpse at the black hooded beasts on the drums and the bearded mystic on the mic, an enthralling sight that backed up the driving thud beautifully. The pace gradually wound down as the drone and noise spiralled into chaos, then calm. A rapturous chorus of applause then followed from the baying crowd. Thank you, K-X-P. Thank you! (Johnny Hedley)
We've probably missed so much out, if you've ever been to The Great Escape you'll know just how much or an assault on the sensors it is. See you next year Brighton.