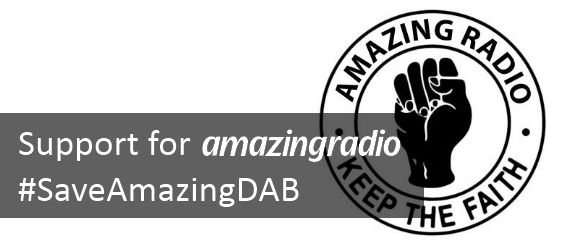 At midnight on Monday 14th May, Amazing Radio ceased broadcast on the UK DAB network. Our departure from the UK airwaves is due to a contractual dispute with Digital One, the sole owner of the transmission network. We're still going strong online and on our mobile Apps and we're moving heaven and earth to get back on air.
The astonishing reaction from thousands of listeners and musicians, erupting spontaneously within an hour of our announcement, confirms that people want us back on DAB and we're overwhelmed with the messages of support from people, many of which you can read by following the links below. We're blown away that people would create petitions, facebook pages and twitter accounts to support us.
Ways you can support Amazing Radio
Please note, the following hyperlinks are to third party websites which are not maintained by amazing.
Write to your MP: Our supporters are canvassing their MP's in order to gain more widespread support for the SaveAmazingDAB campaign. You can see an example over on our blog. Let us know if you feel similarly moved by emailing us.
What our founder has to say
A personal message: Why Amazing Radio is leaving DAB in the UK.
Blog Post: Amazing Radio – Keep the Faith
Blog Post: It's Getting Political
Blog Post: Save 6 Music Founder writes to DAB Broadcaster
Blog Post: An Open Letter to the Radio and Indie Music Industries
Blog Post: Sweet Dreams – A Further Message from Our Founder
SaveAmazingDAB in the Media
Music Week – Amazing Radio to exit UK digital radio tonight
Music Week – 'Keep Amazing Radio on DAB' petition launched
CMU – Petition launched to get Amazing Radio back on DAB
Stereoboard – Amazing Radio Founder Explains DAB Switch-Off Decision
Newcastle Evening Chronicle – Gateshead-based Amazing Radio bids farewell
MediaUK – Amazing Radio Disappears from DAB – Discussion
Right Chord Music – Saving Amazing Radio. Is Sponsorship The Answer?
405 – Amazing Radio to cease digital radio operations in the UK
Generator – Amazing Petition: Tune In
The Drum – Protest to bring Amazing Radio back on DAB following contractual dispute gains thousands of supporters
What People are Saying
"Love radio? Follow @SaveAmazingDAB. Stations like #6Music need great competition to thrive" – Lauren Laverne (via Twitter)
"Amazing Radio is essential listening. Let's keep it on DAB." – Daughter (via Twitter)
"Keep cutting edge quality new music on digital radio!" – Gordon Moakes – 'Bloc Party' and 'Young Legionnaire' (via the Petition)
"Amazing Radio have supported our band and an unreal amount of others at the same stage. They are incredibly important and without DAB I feel they are unable to sustain their growing foothold in pushing new music to people who crave it" – Dominick Goldsmith (via the Petition)
"Amazing Radio is the only reason I ever turn on my DAB Radio. It's awesome." – Sarah Hines (via the Petition)
"Innovative, ambitious and amazing. Unmatched in their support of new music and the stepping stone for all the bands you'll soon hear about elsewhere. This station needs to exist, and be readily accessible to everyone via DAB, for the sake of the British music industry." – Simon Evans (via the Petition)